What is a Fabric Building?
A fabric-covered building is a structure that includes a steel truss frame and a durable fabric covering. They can be either a permanent or temporary alternative to a traditional wood or steel structure. Offering several benefits, including quick installation, a bright and quiet interior, low maintenance needs, and exceptional durability, fabric buildings from Coverco are also affordable and offer a quick return on investment. The foundation, size, and design of the structure you need will vary based on your industry. In our experience, fabric buildings are the ideal solution for sand and salt storage facilities, oil and gas remote drilling sites, hay storage buildings, and more. We have over 20 years of experience in supplying and installing fabric structures in Alberta and Saskatchewan. Our focus on superior engineering and after-sales customer support is what sets us apart from other companies.
WHY CHOOSE A FABRIC BUILDING
VP Series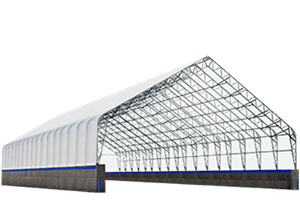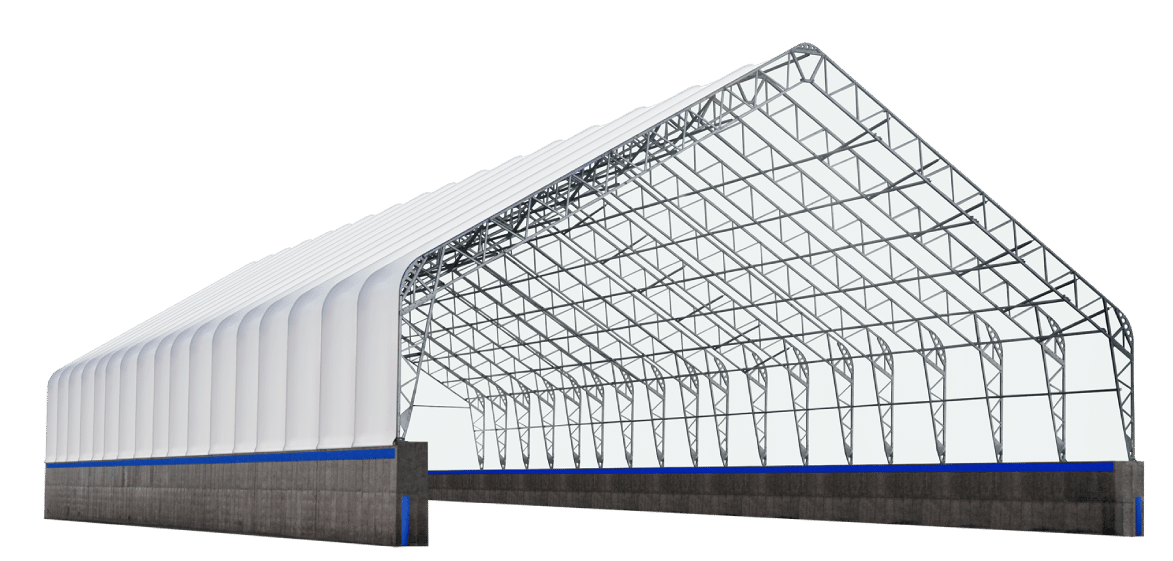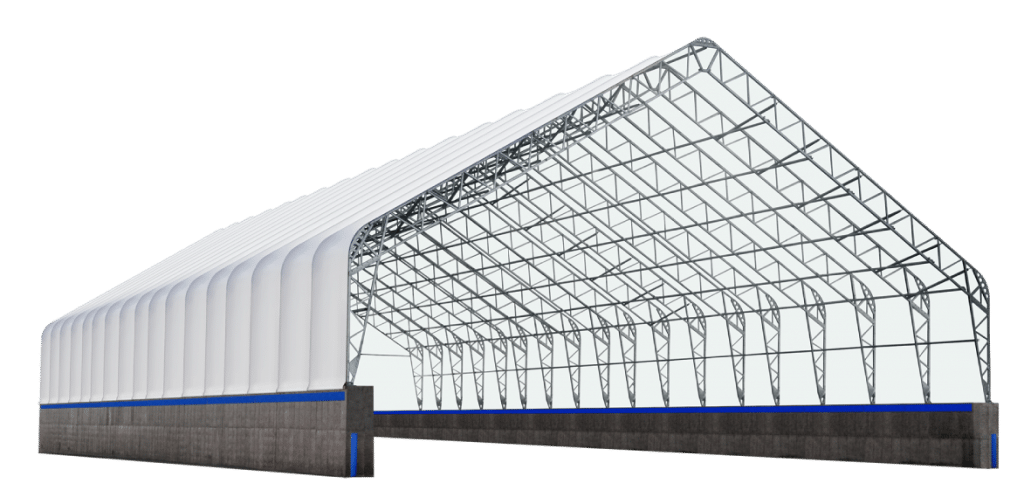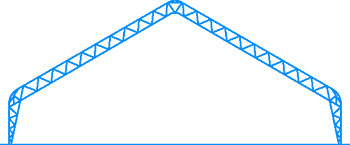 Width: 30′ to over 250′
Length: Unlimited
This versatile design allows for interchangeable trusses, enabling buildings of any dimension and accommodating a wide variety of applications. The VP series is engineered to suit specific client needs and is completely customizable. Wood or steel finishing provides a traditional, polished look.
Hot dipped galvanized steel frame
Stainless steel cables
Hot dipped galvanized hardware
12 oz high density polyethylene fabric
Individual fabric section panel system
Steel legs with different height options 8′ & 14′
4′ eaves for a conventional structure profile
Roof vent support systems
PVC available upon request
Choice of fabric or steel end walls/side walls
CL /ST Series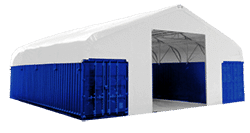 HT Series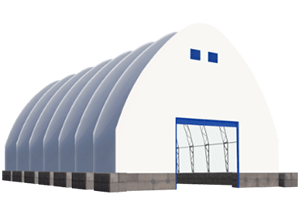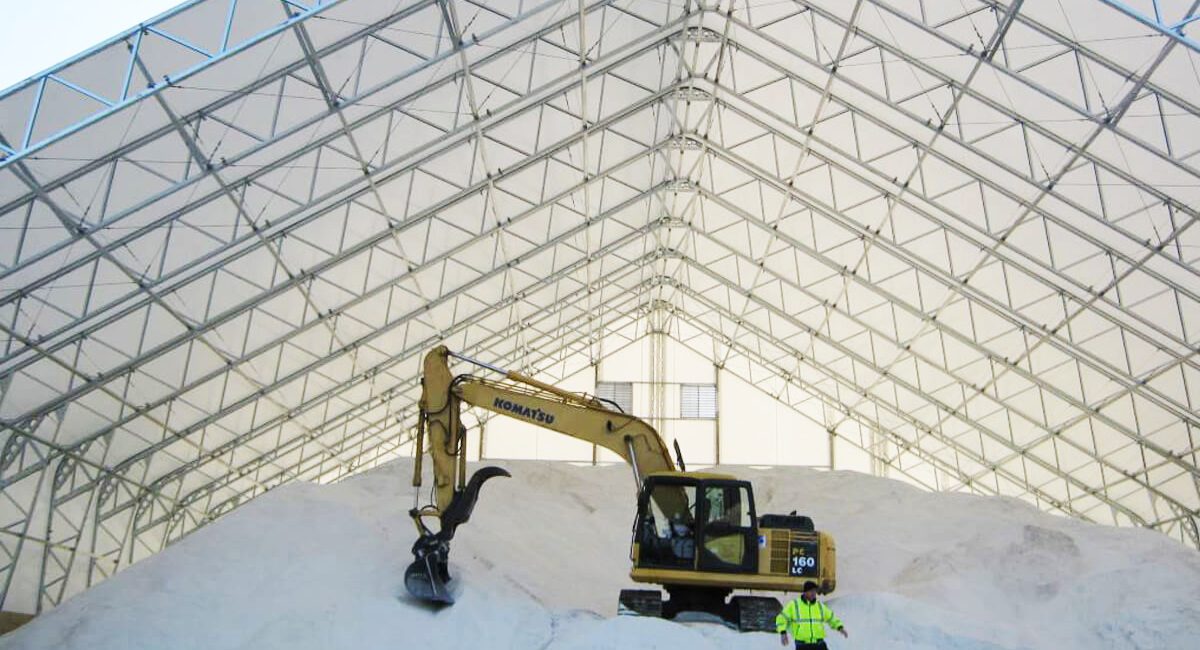 Fabric Buildings Built For Canada's Climate
Our superior products are specifically engineered with Canada's harsh climate in mind. We design each building to ensure consistent quality, capable of withstanding the uniquely harsh and rugged local climate and elemental stresses of the Canadian prairies. We supply fabric buildings for anything from an indoor volleyball or tennis court to a temperature-controlled coverall barn. We customize your structure's foundation, HVAC and electrical system, insulation, and flooring to meet your unique needs. At Coverco Buildings, we also offer the best warranty in the business with a 50-year protection plan. We guarantee quality and assure the longevity of fabric buildings in Alberta and Saskatchewan. No one does fabric buildings better than us.
OUR BUILDINGS ARE IDEAL FOR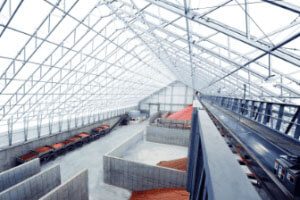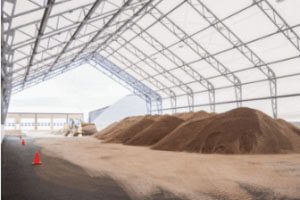 Sand/Salt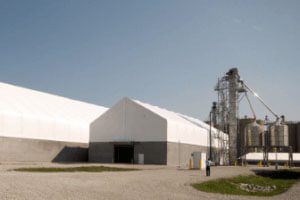 Oil & Gas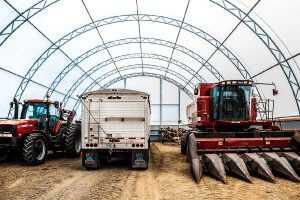 Warehouse & Equipment Storage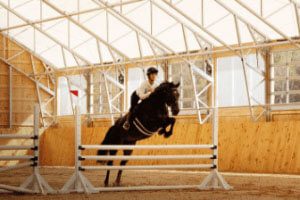 Agriculture & Equestrian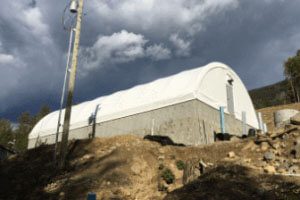 Mining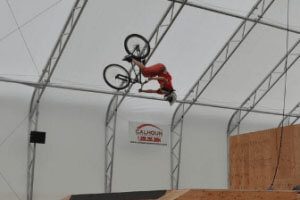 Sports & Recreation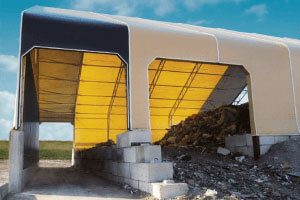 Waste Recycling & Compost
Like sand and salt, fertilizer is also a corrosive material and requires specific conditions when it comes to long-term storage. Our hot-dip galvanized steel frames and structures can withstand rust and deterioration, unlike most other metals. We can customize your building with added protection for a safe and secure fertilizer storage facility.
Sand and salt storage is one of the most common uses for our industrial fabric covered buildings. We cater to municipalities that require a storage solution for the uniquely corrosive properties of salt and sand. Our structures are durable and practical; offering added protection against rust and deterioration.
Our structures are of the highest industrial quality and can be customized or expanded to meet the needs of the oil and gas industry. They are easy to relocate and install in remote drilling locations. Whether you need a permanent or temporary solution for a drilling site, processing facility, or storage, Coverco can help.
Warehouse & Equipment Storage
Our fabric and steel structures are extremely versatile and durable. We can evaluate your needs for storing equipment and machinery, finished products, or raw materials, and provide a building solution that is the right shape and size. Our steel buildings can also accommodate offices and workspaces to meet your needs.
In the agriculture industry, custom engineering is required to provide a structure that offers a safe and ideal solution for anything from hay and equipment storage to livestock housing and equestrian tracks. Our fabric buildings are spacious and bright, simulating the airiness of the outdoors while providing the comfort of indoor temperatures and protection from the elements.
Our buildings come in several shapes and sizes and are easy to relocate and install in remote areas. For this reason, Coverco fabric buildings are ideal for the mining industry, whether you require a temporary or permanent building. Our fabric structures are versatile when it comes to style and foundation type; they can stand wherever your drilling operations occur.
Experience the versatility of our fabric and steel buildings. As a sports facility, our buildings can accommodate anything from an indoor ice rink, tennis court, or soccer field, to a driving range or paintball grounds. As a general recreation facility, the sky's the limit. A durable, multi-purpose, fabric building facility can house weddings, conventions, trade shows, markets, concerts, and more.
Waste, Recycling & Compost
Our custom engineered buildings with clear span interiors offer maximum functionality for the waste and recycling industry. Select features include odour-control, durability, and brightly-lit interiors. Our structures can make handling, sorting, and storing waste, recyclables, and compost materials easy and economical, not to mention safe.

Qualified Professionals
At Coverco, you have the opportunity to work with a trained team of professionals. With decades of experience, we adhere to industry standards to ensure safety and quality are the priority.

Sophisticated Solutions
We only work with the best manufacturers in the country to provide turnkey solutions for fabric covered and steel buildings. Our dedication to structural integrity helps us stand out from the rest.

Full Project Management
We offer full project management to ensure your project stays on track, and you are kept up to date with any changes. We also foster open lines of communication with our clients.

Exceptional Execution
Because we are a solution-driven company, we aren't satisfied until the execution of every project is flawless and our clients are satisfied. We ensure a smooth and easy process.
Start Working With the Best
Durable Fabric Covered Buildings in Alberta & Saskatchewan

How do we ensure superior engineering? At Coverco Buildings, it's the foundation of everything we do. Our fabric structures offer almost the same strength and durability as our pre-engineered steel buildings. The high-density fabric and hot-dip galvanized steel trusses offer more than meets the eye. All structural frames and other critical components undergo the galvanization process. This process occurs after fabrication, resulting in full and comprehensive coverage, inside and out, including welds. The hot-dip galvanization process creates a metallurgical bond between the steel and zinc-iron alloys. The result is a protective coating harder than the base steel with up to 4 times the amount of zinc protection than that of an in-line galvanized product. Select a concrete block, pier, slab, or wall foundation for a permanent, durable, and cost-effective building solution and experience all the benefits of a fabric coverall building from Coverco.

The Hot Dip Galvanization Process
The hot-dipped galvanization process is how we ensure our steel frames last longer and are able to withstand any environment. The process involves bonding zinc to steel to create a stronger and more reliable material. Studies show that hot-dip galvanizing is one of the best ways to protect against rust, corrosion, and deterioration. The HDG process also makes for a smooth surface that won't snag the fabric cover.
1


Surface Preparation
Surface preparation is extremely important; if not done correctly, the zinc will not adhere to the steel and sections will be left uncoated. Our steel undergoes three stages of preparation.
2


Caustic Cleaning
We use a hot alkali solution to remove organic contaminants, such as dirt, paint, grease, and oil. Epoxies, vinyl, asphalt, or welding slag removal occurs through grit or sandblasting.
3


Acid Pickling
All scaling and rust must be removed from the steel surface before galvanizing. We do this through pickling in a dilute solution of hot sulphuric acid or ambient temperature hydrochloric acid.
4


Flux Solution
Fluxing removes oxides and prevents further oxidation of the metal prior to galvanizing. The steel is dipped into an aqueous solution of zinc ammonium chloride and then fully dried.
5


Galvanizing
Each welded truss is immersed in a bath of 98% pure molten zinc at a temperature of about 840°F (449°C). The zinc metal reacts with the iron on the steel surface to form a zinc/iron intermetallic alloy.
6


Inspection
Following complete immersion, the trusses are withdrawn slowly from the galvanizing bath, and the excess zinc is drained off the surface. A unique vibrating technique is used to dry the metal.
7


Drying
After the trusses have dried, the thickness and appearance are closely scrutinized. Several different tests are used to determine thickness uniformity, adherence and overall appearance.